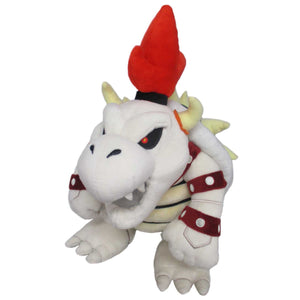 Little Buddy Super Mario All Star Collection 1727 Dry Bowser Plush, 10"
Regular price $39.99 Sale
IN STOCK
Dry Bowser is the undead and skeletal version of Bowser, with his English name playing off of Dry Bones. Despite not technically being one himself, he is closely associated with them and shares several traits with the species, like an immunity to fireballs. He made his debut in New Super Mario Bros., where he ascended as the result of Mario defeating Bowser by dropping him into lava at the end of New Super Mario Bros.'s first castle. Unlike previous occasions, the lava reduced the once-mighty king to a skeleton, leaving his son, Bowser Jr., temporarily in command of the Koopa Troop. Dry Bowser is then fought in the first castle in World 8.
Company: Little Buddy
UPC: 819996017271
SKU: 1727
Type: Plush
Approx. Size: 8"L x 8"W x 10"H
Case (Units): 36