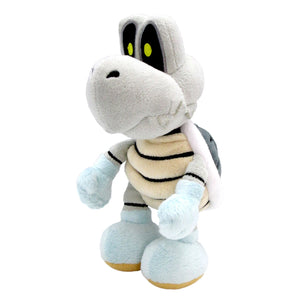 Little Buddy Super Mario All Star Collection Dry Bones Plush, 8"
Regular price $17.99 Sale
IN STOCK
Dry Bones (also known as Skeleton Koopas) are skeletal versions of Koopa Troopas mainly found in towers and castles. These undead Koopas often collapse when attacked, but they soon revive themselves and become normal once again. Dry Bones first appeared in Super Mario Bros. 3, in which they are an edit of a Koopa. They have since become a staple in Mario spin-off games. Dry Bones is ordinarily a lightweight character in games and is often accompanied by Boo. The Dry Bones emblem is a side-view of their heads.
Company: Little Buddy
UPC: 819996015987
SKU: 1598
Type: Plush
Approx. Size: 4"L x 3"W x 8"H
Case (Units): 144