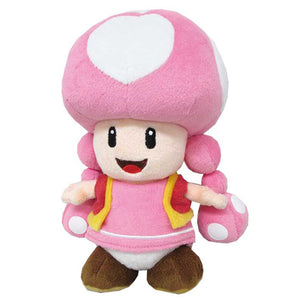 Little Buddy Super Mario All Star Collection Toadette Plush, 7.5"
Regular price $19.99 Sale
IN STOCK
Toadette is a recurring Toad character in the Mario series. Originally introduced as a playable racing partner for Toad in Mario Kart: Double Dash!!, she has since appeared in other games as a playable character and has played supporting roles in Paper Mario: The Thousand-Year Door, Dance Dance Revolution: Mario Mix, and Mario Party DS, and as a main character in Captain Toad: Treasure Tracker. While she has very similar traits to other characters, she is the most commonly recurring female Toad in the Mario series. Toadette has been shown to be on good terms with such characters as Princess Peach, Toad, Toadsworth, and Mario.
Company: Little Buddy
UPC: 819996014508
SKU: 1450
Type: Plush
Approx. Size: 6"L x 4"W x 7.5"H
Case (Units): 108