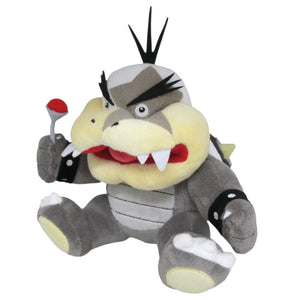 Little Buddy Super Mario Koopalings - Morton Koopa Plush, 9"
Regular price $19.99 Sale
IN STOCK
Morton Koopa Jr. (known as Big Mouth Koopa Jr. in the cartoons) is a member of the Koopalings, a seven-member clan loyal to Bowser. The Koopalings were originally depicted as Bowser's own children. This idea was usually omitted in games released after their debut in Super Mario Bros. 3, and Shigeru Miyamoto stated in a 2012 interview that Nintendo's current story was that they are not Bowser's children, leaving Bowser Jr. as his only offspring.Morton stood out because of his primarily darker skin colouration and his white head until New Super Mario Bros. Wii, in which his pale grey shell was also a point of interest due to the Koopalings now having unique shell colors.
Company: Little Buddy
UPC: 819996013440
SKU: 1344
Type: Plush
Approx. Size: 5"L x 5"W x 9"H
Case (Units): 72