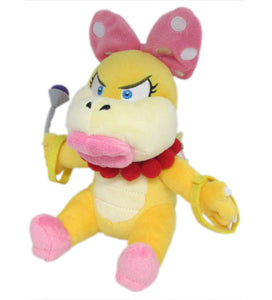 Little Buddy Super Mario Koopalings - Wendy Koopa Plush, 7"
Regular price $19.99 Sale
IN STOCK
Wendy O. Koopa (known as Kootie Pie Koopa in the cartoons) is the sole female of the Koopalings, a seven-member clan that personally follows Bowser. Wendy and the other Koopalings were originally depicted as Bowser's children. This idea was usually omitted in games released after their debut in Super Mario Bros. 3, and Shigeru Miyamoto stated in a 2012 interview that Nintendo's current story was that they are not Bowser's children, leaving Bowser Jr. as his only offspring. She was named after famous musician Wendy O. Williams, lead singer of the punk band the Plasmatics.
Company: Little Buddy
UPC: 819996013464
SKU: 1346
Type: Plush
Approx. Size: 5"L x 4"W x 7"H
Case (Units): 24